NetworkedAssets
Pragmatic Solutions in Software
About us
NetworkedAssets is a specialist for software-architecture and software development located in Berlin and Wroclaw. Our focus is the integration of data, devices and processes. Our technological ecosystem is the JVM on Linux/Unix. We are passionate users and advocates of open source software. Pragmatic problem solution is the guideline for all our activities.
We support telecommunication companies in Europe
Our areas of expertise are:
TECHNICAL PROCESSES IN LARGE NETWORKS
Provisioning of resources; management, configuration and monitoring of network elements and CPE; analysis and processing of event- and meta-data for OSS and BSS systems, integration of mobile and web interfaces in highly distributed applications for millions of users.
TECHNICAL PROCESSES IN SOFTWARE-DEVELOPMENT
Code management, continuous integration and automated testing, custom load tests for distributed applications, continuous delivery and the automatic configuration of virtual and physical systems.
SOFTWARE ARCHITECTURE AND DEVELOPMENT
Custom software development for the integration of data devices and processes. Continuous Delivery and Deployment solutions, automated testing.
SUPPORT
Delivery is only the beginning: Operation and Maintenance for our software installations. Incident Management under SLA (up to 24/7/365) including support infrastructure (Hotline, Ticketsystem).
Join us
For each project, we create a team consisting of developers, testers, administrators and project managers. Only a complete team supports each other in the day-to-day tasks and produces an output resulting in a satisfied customer.
Our job offers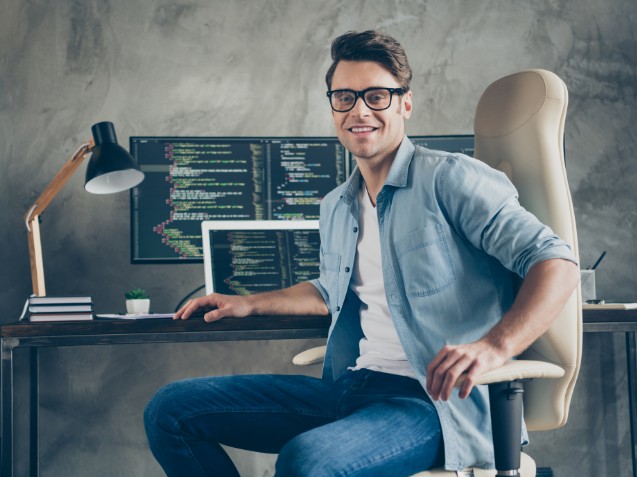 Meet Our Teams
Each of our internal team is different, one of a kind. They have their preferred technology stack, but they share common values – commitment, respect for each other and a friendly atmosphere. If those values lie close to your heart, you will feel like in your second home with us, whatever Team you will choose for yourself